RIEMC Partner Organizations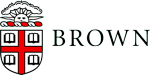 Brown University was founded in 1764 and is an Ivy League institution specializing in medicine, engineering, public health and professional studies. Brown University has a mission to serve the community, nation and the world by discovering, communicating and preserving knowledge and understanding in a spirit of free inquiry.
The Rhode Island Coastal Resources Management Council (CRMC) is the State's federally-designated coastal zone management agency. The CRMC manages and plans for the preservation of the coastal resources of the state and is responsible for the management and permitting of all activities within tidal waters, including dredging, and along shoreline features and their contiguous areas. The CRMC, in collaboration with many partners, manages the marine aquatic invasive species program, maintains shoreline change maps depicting erosion and accretion along the coast, and assesses the impacts of sea level rise on Rhode Island's coasts.
The Environmental Protection Agency Atlantic Ecology Division (EPA AED) conducts research to enhance the understanding of the effects of human activity on land and waters of the Atlantic seaboard. Researchers collect and analyze data to provide tools for diagnosing and predicting the effects of these activities on aquatic resources and wildlife. EPA AED provides research support to EPA Program & Regional Offices and state & local governments.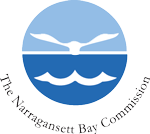 The mission of the Narragansett Bay Commission (NBC) is to protect and sustain water quality in Narragansett Bay and its tributaries by providing safe and reliable wastewater collection and treatment services at a reasonable cost. NBC's water quality monitoring programs are essential to this mission, particularly monitoring of dissolved oxygen, nutrients, bacteria, and benthic habitats. Its website contains monitoring data and represents a comprehensive look at water quality in upper Narragansett Bay. NBC serves as vice chair of the RIEMC.
The Narragansett Bay Estuary Program (NBEP) is one of 28 programs designated as "estuaries of national significance" under the National Estuary Program. The program helps protect and restore the waters of the Narragansett Bay itself as well as the land that surrounds and drains into the Bay. Serving as a catalyst in the watershed, we work to attract and direct federal and other resources to build needed scientific information. This helps inform the public and policy makers, convene collaborative work-groups around key issues, and support local and grassroots-level organizations. Using skills in science, policy, and management, the Estuary Program seeks to address and advance key issues in the Narragansett Bay watershed.
The Narragansett Bay National Estuarine Research Reserve (NBNERR) collects a comprehensive set of abiotic and biological monitoring data. Water quality data are collected continuously around Prudence Island as part of the national System-wide Monitoring Program. These data are complemented by continuous monitoring of meteorological data at the weather station near Potter Cove and by monthly nutrient and chlorophyll sampling at four water quality sites. NBNERR is also tracking changes at two of the most pristine salt marshes on Prudence Island in response to climate change and sea level rise. The biological parameters regularly monitored by NBNERR include eelgrass and macro algae distribution and cover, benthic fauna, invasive crabs, nekton in estuarine habitats, and songbirds and ticks in upland habitats.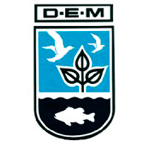 The Rhode Island Department of Environmental Management's Office of Water Resources (RIDEM OWR) monitors, protects and restores rivers, lakes, wetlands, groundwater, and coastal waters in order to support healthy aquatic ecosystems and sustain their beneficial uses including provision of drinking water and recreational activities among others. RIDEM OWR serves as the state's water pollution control agency. It is responsible for using water quality monitoring data to assess and report on the conditions of Rhode Island's surface waters in accordance with the federal Clean Water Act. The results of the assessments of the condition of surface waters are available online. RIDEM serves as vice chair of the RIEMC.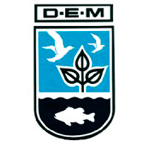 The mission of the Rhode Island Department of Environmental Management's Division of Marine Fisheries (RIDEM Marine Fisheries) is to research and monitor marine species to support the effective management of finfish and shellfish of commercial and recreational importance.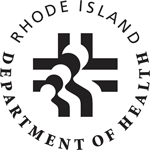 The mission of the Rhode Island Department of Health (RIDOH) Beach Program is to protect the public from illness associated with swimming in contaminated bathing waters. The Beach Program achieves this goal by licensing recreational bathing beaches throughout the state. It furthers this mission by assisting beach owners and managers with finding and eliminating sources of contamination. The Beach Program collects various types of environmental data including Enterococci levels, water temperature, bather load, beach conditions, precipitation, seaweed load, illness complaints, etc.
The Rhode Island Natural History Survey (RINHS) collects and distributes information on the location and viability of animal and plant species and natural communities in Rhode Island. Ongoing monitoring focuses on rare species and natural communities and invasive species. Additionally, the RINHS Wetland Program develops methods to monitor and assess freshwater wetlands and salt marshes.
Save The Bay (STB) protects, restores, and improves the ecological health of the Narragansett Bay region, including its watershed and adjacent coastal waters, through an ecosystem-based approach to environmental action. STB also defends the right of the public to use and enjoy the Bay and its surrounding waters, and fosters an ethic of environmental stewardship among people who live in or visit the Narragansett Bay region. STB conducts monitoring at two natural eelgrass bed sites in the Bay and sends its data to the SeagrassNet database a world-wide monitoring database and web site. STB uses data from natural eelgrass sites to compare with monitoring data conducted at transplant bed sites.
State of Rhode Island Division of Planning consists of three main components: the Statewide Planning Program, the Office of Housing and Community Development, and the Water Resources Board. The Water Resources Board and the Water Resources Board Corporate have authority in planning, developing, and managing public water supplies. These two agencies support the proper development, protection, conservation, and use of the state's water resources while providing for economic development and protection for the environment.
The Nature Conservancy (TNC) was founded in 1951 with a mission to conserve the lands and waters on which all life depends and advance conservation around the world. TNC-Rhode Island added the Ocean and Coastal Conservation program in 2007, to bring together experts from around the state and across the country to protect and restore the health of Rhode Island's marine environment.
The University of Rhode Island Coastal Institute (URI CI) is a neutral venue where knowledge is advanced, issues discussed, information synthesized, and solutions developed for the sustainable use and management of coastal ecosystems. The geographic scope of the Coastal Institute is broadly defined to include continental shelves, inland or partially enclosed seas, estuaries, bays, lagoons, beaches, and terrestrial and aquatic ecosystems within watersheds that drain into coastal waters. The conceptual scope of the Coastal Institute includes the environmental, economic, ethical, and cultural dimensions of coastal environments and their governance. The Coastal Institute serves as chair of the RIEMC.
The University of Rhode Island Graduate School of Oceanography (URI GSO) is an internationally respected oceanographic institution in regards to ocean education and research. The main interests include marine geology, geophysics, biology, atmospheric and ocean chemistry, and physics.
The University of Rhode Island Environmental Data Center (URI EDC) operates within the Department of Natural Resources Science at the University of Rhode Island. The URI EDC specializes in 1) the collection, storage, analysis, display, and distribution of geospatial data and 2) teaching, instruction, and training in the use of geospatial technologies. The URI EDC works closely with the Rhode Island Geographic Information System (RIGIS) Consortium and regional entities on the coordination of geospatial data acquisition and distribution that supports environmental monitoring efforts throughout Rhode Island. URI EDC was part of a consortium through USGS to collect high resolution elevation (LIDAR) data covering all of Rhode Island. These data are immediately applicable in flood hazard mapping, sea level rise modeling, ecological climate change habitat assessments, and alternative energy siting.
The University of Rhode Island Watershed Watch (URI WW) program works with RIDEM, watershed organizations, and local communities to assess water quality, and provide information for more effective management of critical water resources. The URI WW produces quality data for a broad range of parameters for over 250 monitoring sites on lakes, ponds, reservoirs, rivers, streams, salt ponds, and marine waters statewide. Field monitoring is conducted by trained volunteers typically from May through October either weekly or bi-weekly following well-established and documented methods, and samples are processed in a state certified laboratory. Data are summarized in on the URI WW website with design of a new database underway.
The Rhode Island Water Resources Board (WRB) is an executive agency of state government charged with managing the proper development, protection, conservation, and use of the state's water resources. Goals and strategies include water supply management, water facilities assistance, information systems, property acquisition and management and education and outreach. Information on the strategic plan can be found here.